e: sam@sam-marketing.co.uk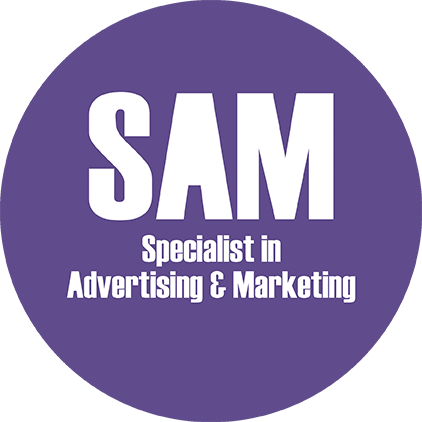 "Creativity is intelligence having fun"
"Great technology around you in the world, but at the end of the day, it's the people who create the music!"
Hello, I'm Sam, the proud owner of SAM Marketing. A qualified (CIM Professional Diploma in Marketing and Diploma in Digital Marketing) Marketing Consultant based in Huddersfield, I specialise in all things Advertising and Marketing, be that Online or Offline for B2B, B2C or FMCG.
You've got this far, so I can only assume you found me by way of SEO, or we've met somewhere and my disrupter approach whetted your appetite?
Let's see what I can do to help? Click on the boxes below to see!

My Credibility & History
Having many years' experience in this industry in senior roles, (both full service, award-winning marketing and creative agencies and a number of years on the client side, with one of the UK's largest privately owned motor retailers) I have worked with lots of household names. Many in the motor trade, from Mazda to Maserati and Peugeot to Porsche. Plus, many other industries – web development, construction, wealth management, executive coaching, kitchens, food, theme parks, hotels, accountants, bathrooms – to name but a few. I've undertaken marketing strategies, marketing planning, media/print buying and content writing for all of these businesses, so whilst I may speak with a Yorkshire tongue, I can write in any tone of voice required.

Marketing Strategy
& Planning
Marketing Strategy & Planning
So, it all needs to start with the Marketing Strategy, You or your business are nothing without one of these. Not having one means your efforts to attract customers are likely to be a tad haphazard and generally inefficient. This is the linchpin to all things marketing. You need a robust, but flexible strategy that can respond to changes in customer perceptions and needs. I can help develop your strategy. Then and only then can we move on to the Marketing Plan.
As an expert Marketer, I can undertake everything you need to develop and implement your plan effectively. Including choosing the correct channels to ensure you're talking to the right people at the right time. Marketing is ever evolving and there are more routes to your customers than ever before, so putting all your eggs in one basket is not going to help you achieve your desired result. Research is key in sourcing where your customers are at what time and creativity helps you stand out. There's a lot of noise out there and your business needs to be the metaphorical sore thumb.

Content Creation &
Proof-Checking
Content Creation & Proof-Checking
I love to create compelling, creative content, no matter what the subject or tone of voice required. If you need content for your website whether it's a one pager or an e-commerce site, then writing with SEO at the forefront is a given. Writing good content is a skill. It's pretty pointless having a fantastic website, if you've not invested in the content. It needs optimising otherwise it will be like the world's best kept secret. By the way, I can help there too. I collaborate with an awesome website designer and developer! Check out www.athenamedia.co.uk
I can also help with copy for brochures, leaflets, flyers, you name it, I can write it. Even radio scripts! Talk to me if you need a power-point presentation pimping, an elevator pitch writing for your networking event, a sales campaign pulling together or content for an invitation. Perhaps you need a full suite of CRM materials creating or you'd like someone else to take the heat off and write the content for your social media posts? Content is everywhere and it's really important to get it right. That means the proof-checking of it too. If you need another pair of eyes to give your work a once-over, then let me know. Of course, not forgetting video content. Video is becoming more and more prevalent. If you want to create a video for your business, just shout.

Printing
Conversant in all things print, if your marketing plan means you need printed collateral, then look no further. Be that mugs, coasters, pens, brochures, flyers, stationery, livery for the side of your van/car, banners, promotional items, wedding stationery, sales aids, bus backs, posters, etc. You name it, I've helped design, write the content and bought the print! I can write the specification for you to use your own printer, I can put you in touch with one of mine, or I can do the whole thing for you and save you the hassle of the confusion of many different kinds of print specifications. I know a fab printer in Huddersfield (I like to keep business local) who can print all of the above. Check out www.swiftprint.co.uk

Branding
Branding means different things to different people. Your brand needs a story. Be that a brand new identity, creating awareness for your existing brand or re-branding. For your business, it could mean creating content culminating in a printed or downloadable brochure from your website. A brand is a key part of the whole marketing strategy. It's how you want to be perceived. A brand is not just a visual aid like a logo, it can be a piece of music that you always use on broadcast media. Or it could be the voice you use on your telephone answering system or training videos. All elements of marketing = branding. It's important that your marketing strategy and planning don't go to waste. Your brand needs to be aligned everywhere you see or hear it regardless of which medium it's seen or heard on.

All Things Media
Experienced in the media, I will research your target audience, plan a campaign for you and buy the media space or airtime on your behalf, thus ensuring that your campaign is seen by the right people, in the right place at the right time. I'm experienced in most channels (and if I'm not, I collaborate on your behalf), be that TV, Sky Adsmart, radio, press, magazines, OOO (Out of home – bus backs, poster sites, lamp-posts, etc.). Not forgetting the all-important social media. I can develop a traditional media plan or your social media strategy. Again, if you need help with the TV or radio production, the artwork for your magazine adverts, or the content for your social media strategy, so you can post on your own accounts, please ask.

My Benefits
A SAM package can be tailored to suit your business needs – whether that's a day a week, a day a month. a one-off project or something longer term. I can fit in with whatever your business requires. As long as I have tea. Lots of it.
Many years' marketing experience you may not want or need full time.
A clear, client-focused approach.
First little chat complimentary, followed by a clear upfront proposal.
No tax, NI, sickness or holiday pay. I'll take care of that bit.

My Packages
I am totally open to how this would work best for you. Be it a few hours a month to update your website, a one-off event you need help arranging, a day a week/month on a retainer or a one-off brainstorming session and you go away and do the work with me coaching along the way. Or, if you need holiday/sickness cover, I can be your marketing department. I'm happy to work at my own office or take a chair at yours!
Ask about my 'Starter Package for new businesses'. Working in conjunction with Athena Media and Swift Print, we have put together a number of packages for new start-ups, meaning from as little as £875 you can be online with your very own website, professionally written with SEO in mind, along with a suite of start-up stationery materials. Contact me to find out how!
My Testimonials
Andy Heap, Managing Director, CHILLI-UK. Sam is a highly experienced marketer who always brings a positive and enthusiastic approach to everything she does. With a strong commercial and creative outlook, she consistently brings a fresh perspective to marketing opportunities with a clear focus on delivering measurable results. If you are looking for help with any aspect of your advertising and marketing I cannot recommend Sam highly enough.
Louise Wilkinson, HR Professional. Sam is a talented Marketing expert who has many fresh, unique and exciting ideas. Her creative flare was essential in the success of bringing my people led projects to life during the time we worked together at JCT600! Sam's ability to get under the skin of any organisation and bring their culture/brand to life is the reason I recommend her to my clients. Keep up the great work, Sam!
Keith Brock, Managing Director, Wessex Garages. Sam worked with me when I was building Wessex in the early days. She was able to interpret my crazy marketing ideas and sketches and somehow knew what I was talking about! A great skill and one which is hard to come by. I would have no hesitation in recommending Sam and would be happy to work with her again.
Ben Dickinson, Owner, Athena Media. I'd definitely recommend Sam from SAM Marketing! I'm in the (bad) habit of wanting to do everything myself for my business, which meant a stressful time asking Sam to go through and tear my website content to shreds! Luckily, Sam understood straight away and took a highly professional and efficient approach towards editing my website copy. Sam became an expert in web design content while writing my copy ensuring the keywords were not only in there, but relevant and the content flowed brilliantly. I recommend Sam to all my clients looking for proof-reading and content creation!
Lawrence Good, CEO at Zawawi Trading Company. Sam is a very professional and experienced marketing executive. She is proactive in establishing, developing and executing the correct media communication for any marketing activities be it, press, media, events, digital channels and social media. When I worked in an operational position Sam was a great support in developing and executing the effective tactical and brand campaigns. She is very approaching, a great sense of humour and works hard to deliver the best result for her clients and colleagues.
David Cox, Managing Director, Cox Motor Group. I would have no hesitation in recommending Sam. She is straight talking, honest, capable and incredibly experienced. You can have a great deal of confidence in dealing with her.
Steve Law, Group Business Development Manager. Having worked with Sam for over twenty-five years, I have a very clear appreciation of her strengths and how working with her brings countless benefits that only years of trust and reliability bring to the best of any commercial relationship. Sam has a knowledge and wisdom that reflects her considerable time spent within marketing and communications and is a great font of support and knowledge. If I am ever in need of reassurance, I know that I can rely on Sam, utterly believing that she will always guide and support me honestly. Something that I have appreciated about her over many years is that, Sam has copious amounts of basic common sense and kindness in everything she turns her hand to. I have absolutely no hesitation in recommending Sam to everyone, you won't regret it.
Martin Smith, Commercial Director, Pulse 1 and Pulse 2. I have known and had business dealings with Sam for over 25 years and can honestly say she is one of the best and most knowledgeable marketers I have dealt with. I have no hesitation whatsoever in recommending Sam to any business looking for someone to market and promote their business.
I love to talk and ask 'why', so let's get together and I can pick your brains about your business, your objectives, your strategy, what's currently working, what currently isn't, what your USP is and how you want to portray your product/service.
e: sam@sam-marketing.co.uk
t: 07963 253878